Click your problem below for more information.
Game and Vermin Control
provides the most professional service possible, covering more pests than any other local firm and in a discreet, friendly and affordable manner. Our range of Game and Pest Control services is unequalled in the area and carried out by a dedicated experienced team. Our helpful technicians will eradicate your problems and advise on how to prevent further issues. Whatever your problem, from a one-off Wasp nest removal to a full on-going Pest Prevention Program, we can provide you with the service and backup you need. We are available 7 days a week, 24 hours a day to respond to your problems in Berkshire and all surrounding counties; Bucks., Hants, Middx, Oxon, Surrey, Wilts. Regional offices in Bisley, Daventry, Ledbury, St. Albans and Swindon. Unrivalled service, experience and backup at the best possible price give you Peace of Mind.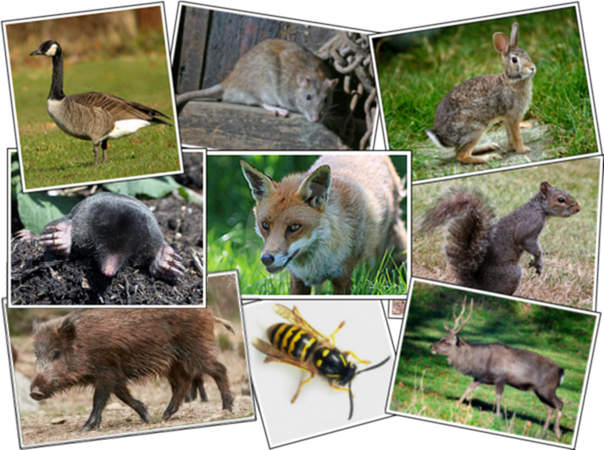 All Domestic, Retail and Commercial
Airports
Construction Sites
Councils
Country Estates
Cricket Grounds
Farms
Fisheries
Football Grounds
Forestry
Garden Centres
Golf Courses
Hotels
Land Managers
Livery
Polo Clubs
Railway
Schools
Sheltered Accommodation
Stables
Stud Farms
etc., etc.
Full Pest Prevention Programs or one-off call outs.
This is a fact of life we have to accept and is commonly caused by vehicle and wildlife contact, but can also involve general livestock, cattle and horses. Game and Vermin Control have the expertise to efficiently relieve the suffering of a wounded, diseased, trapped or injured animal.
©2008-2022 Game and Vermin Control.